3,283 total views,  1 views today
Why SharePoint 2019? New and improved features in SharePoint Server 2019 – here is a summary of updated new and improved features in SharePoint Server 2019.
Why SharePoint 2019 – Summary of new and improved features in SharePoint Server 2019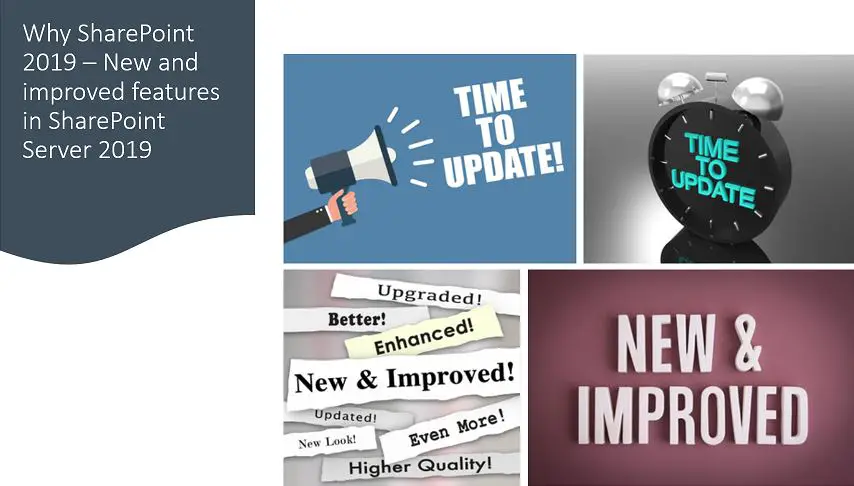 Access Services 2013 now supports Send Email
Additional documentation links for the Central Administration site
Communication sites
Create fast sites
Increased storage file size in SharePoint document libraries
Modern sharing experiences
Modern Site Pages, modern web parts, and authoring
Modern search experience
Modern Team sites
Integration with Power Apps, Power BI, and Power Automate
SharePoint using modern Internet Information Services (IIS) APIs
SharePoint home page
From the SharePoint home page, you can create sites in different web applications
Self-service site creation on the SharePoint home page now supports AAM zones
SMTP authentication when sending emails
Sync files with the new OneDrive sync app (OneDrive.exe)
Use of # and % characters in file and folder names
Distributed Cache now uses background garbage collection by default
File path limit of 400 characters
Hybrid experiences improvements
Recycle Bin restore improvements
Sharing email template
Summary of new Microsoft PowerShell SharePoint Server cmdlets in SharePoint 2019
The below PowerShell commands have been introduced in SharePoint 2019:
New User Profile Synchronization PowerShell cmdlets
New Get-SPContentDatabaseOrphanedData PowerShell cmdlet
New Set-SPApplicationCredentialKey PowerShell cmdlet
New Remove-SPApplicationCredentialKey PowerShell cmdlet
Summary of new SharePoint Health Analyzer rules in SharePoint 2019
People Picker health rule
SMTP authentication health rule
Summary of Suite Navigation and App Launcher improvements in SharePoint 2019
Telemetry privacy experience
Visio Services accessibility


Here is a great article on why SharePoint 2019 and what are the new features in SharePoint 2019….it is a good checklist to start learning SharePoint 2019.
See Also: Sharepoint Tutorials Free
You may also like the following SharePoint tutorials free:
About Post Author