5,272 total views,  3 views today
SharePoint Workflows in Financial Services – Why You Need Them. Financial service providers can achieve a lot with SharePoint financial workflows. One of the most critical is the automation of tasks. No-code workflows mean ease of use and high efficiency.
Teams can also manage documents and approve projects on the platform. And that is not all. SharePoint allows for better management and centralization of data.
Let's get into a more in-depth discussion on SharePoint in financial services below. In the end, you will understand why this Office 365 offering can transform your processes.
SharePoint Workflows: What Is It
?
Microsoft describes SharePoint workflows as pre-programmed mini-applications. The workflows help with the automation and streamlining of business processes.
Workflows bring efficiency and consistency to several tasks. Such include documents or plan approvals and signature collection. Moreover, it also involves job tracking and other routine procedures.
For the financial sector, such solutions are a godsend. Banks, financial institutions, and credit unions deal with a lot of paperwork. Imagine the tons of data coming in from different places. Managing all these using manual labor can be costly, time-consuming, and tedious. The possibility of errors is also very high. 
Take the example of requesting your credit report from the credit bureaus. On checking the document, you can find many errors. Whoever input the data misspelled your name. There are also transactions on your account that you know nothing about. 
You will need the services of a credit repair professional to help rectify the errors. You understand that the mistake could impact your credit score. It will make it hard for you to get financing. 
If you were to trace the problem back to the root, you would find an overworked employee. He has mountains of papers on his desk and may still be using manual processes.
Task automation with SharePoint workflows can help with that and so much more.
SharePoint Financial Workflows: Why Do Financial Services Need SharePoint Workflows?
Let's look at some benefits of using SharePoint workflows.
     1. Task Automation with Workflows
We have touched on the challenges of manual processes above. SharePoint workflows allow for higher efficiency, productivity, and streamlining of processes.
It does not matter the size or scale of the operations. The tool, unlike humans, does not get tired. Input the necessary tasks using simple, intuitive steps, and let automation take over.
Automation is possible with:
Workflow mailboxes

help with the management of work-related emails. You can store them in separate files for easy search and access. Further, only those with relevant permission can see the emails. It ensures the security of sensitive information.

Workflow notifications

alert you of any changes, new tasks, or updates. It frees teams from having to check the systems while ensuring they are up to date with everything.

Workflow task management

covers tons of functionalities. Managers can assign tasks, set timelines, and track workflow. Employees enjoy better structure in how the managers assign roles. They can plan their time better and focus on urgent work.
Other notable in-built workflows are approvals, feedback, signature, and publishing. The teams also have the option of custom workflows. 
They create them depending on the complexity of the processes. Such include weather forecasts, sales tax calculations, and inventory tracking workflows.
    2. Project Management from a Central Location
SharePoint workflow allows for the centralization of all the processes in one location. Users access the information on the dashboard. What does this mean for the finance teams? Well, it becomes easy to uncover any inefficiencies in the processes. 
Statistics and visual cues like graphs and charts increase clarity in reporting. The SharePoint Kanban Board helps with visual task management. 
Project leaders can keep track of projects with ease. They can also identify bottlenecks that could be hampering work progress. We can summarize the role of workflows in project management as:
Better management of timelines, thus the ability to meet deadlines.

Improved resource allocation and management.

Better visibility in the project processes with the dashboard and Kanban board.

Clarity on roles and expectations.

Team collaboration and higher efficiency by eliminating manual processes.

Workflows help with auditing and reporting thus better decision-making.
     3. Document Approvals with SharePoint Workflows
There are so many documents that need approval in a typical finance office. Before getting a signature, the documents need checking and information verification. 
Once the documents land on the manager's desk, it could take time before they even notice it. So, sending constant reminders becomes part of the process. 
If you have ever been in this situation, you know how tedious the process can be. But, SharePoint workflow will take the stress out of the process. No more running around to check which stage your document has reached. 
Say hello to zero emails or calls to remind people to take a specific action. The system handles all the processes, including sending you notifications on progress. All you need do is set up the approval workflow, and you are good to go. 
Look at the image below from the Microsoft website to explain the above. 
Image source: Overview of workflows included with SharePoint
      4. Process Planning With SharePoint Calendar
With so many tasks to handle, planning can be difficult. One fantastic tool is the SharePoint calendar. The teams can plan ahead, allowing for greater efficiency. They can determine when to send out reports, payment dates, and so much more. 
Color coding helps with category development. It is also possible to have individual schedules. The result is better streamlining of activities.
The alerts and notifications systems will remind you of the tasks you need to execute. It allows for better optimization of work processes.
SharePoint Workflows in Financial Service: Final Thoughts
SharePoint workflows in the financial sector can help streamline processes. The number of tasks the teams can handle is broad. These include credit card operations, customer onboarding, and claims processing.
Others are invoice management, back-office processing, and data management. The teams can use specific workflows to carry out tasks. 
Approval workflows free up time. No more chasing documents from office to office. Automating the jobs allows for document tracking through the relevant chain. 
We have looked at some benefits of SharePoint workflows above. Once the team gets a handle on how to use it, the daily application becomes a breeze. 
Articles such as this are a great starting point if you want to enjoy everything SharePoint has to offer. But there is a lot more to uncover and learn. So, please take the time to educate yourself a little bit more with some research. Your finance department will thank you for introducing them to this nifty tool.
See Also
You may also like the following SharePoint PowerShell tutorials:
For the project management tool with SharePoint, you may refer to the below article:
For the credit repair professional you may refer to the below site:
Buy SharePoint Online eBook
Buy the premium version of SharePoint Online & Office 365 administration eBook from here: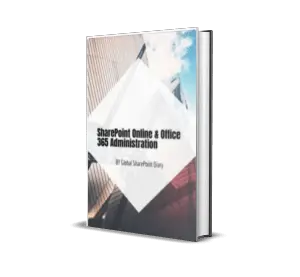 Would you like to double your business revenue (from advertising)? Switch to EZOIC to increase your revenue
About Post Author