6,554 total views,  1 views today
In this create your own chatbot article, we will learn how to create a chatbot in PowerApps (Power Virtual Agent) step by step. The Power Virtual Agent is one of the technologies from the Power platforms family. Technically it is implemented based on AI technology.
Create your own chatbot: use cases of chatbot
These days we could see that whenever we log in to any websites like banking, finance, insurance, health, etc (across all sectors), we get the chat-based live assistant, serving like a human being sitting on the end and chatting with their web site visitors or customers when they enquire about something, in reality, they are not a human being, it is an automated chat-based system developed using the AI (Artificial Intelligence).
This type of chatbot application can handle some repeating tasks where a customer service executive (a human being) used to do, for example, if we take an example of health care service, the patient may enquire about the doctor details, particular service, in banking web site customer may seek for information about the banking products like the loan, credit card and debit card, etc. For this kind of use case, all customers will put across the question in almost similar ways – as these are repetitive and common needs for all customers depends on their sector or industry.
Create your own chatbot: can the chatbot really answer all quires or human efforts can be replaced by it?
No, the chatbot can only handle simple pre-configured queries, not complex ones. And human efforts never be replaced by the chatbot. It works based on the pre-configured frequently used phrases.
Create your own chatbot: create a simple chatbot application using PowerApps step by step
Now, let's get started to create a sample chatbot application using PowerApps.
Login to your PowerApps development environment like below: https://make.powerapps.com/environments/Default-8bde4d0e-9bbb-42a2-86ca-46884a08df50/home
Note:
For you, the environment ID would be different, as it is unique across all environments.
Steps to create a chatbot in PowerAppsGo, to the "Chatbots" section from the left side panel.
Click on the "Create" button
On the next screen, click on the "+New chatbot" button.

Next, it will verify the license information, and after some time, we will get the "Welcome to Power Virtual Agents" screen.
Choose your country/region.
Then click on the "Start free trial" button.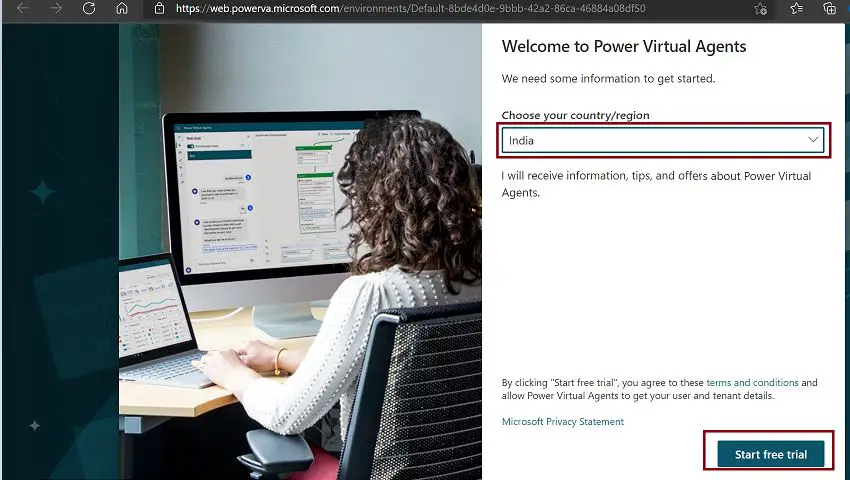 On the next screen, pass the below parameters to create a new bot:
Name – any meaningful text input.
Language – select your bot language.
Environment – select

Create a new bot in Power Virtual Agents – PowerAppsClick on the "Create" button
It will start creating your chatbot.

After some time, we will get the below test bot screen where we can configure chatbot topics.

Sometimes, we may get this error in the chatbot screen "Your bot is temporarily out of commission. Please try again later. Diagnostic Trace Id: 0HMAJGGJ928U9:0000000A" For this sign out and sign in again, that might solve this issue otherwise create another chatbot, here we have created another one.

Note:
Without writing a single line of code, we are able to develop a fully functional chatbot application in just 10 minutes, this is the power of a low code no-code platform (Power Platform).
Summary: What we had here?
Thus, in this article, we have learned how to create a chatbot application in Power Apps using the Power Virtual Agents trial account step by step and how to fix the "Your bot is temporarily out of commission. Please try again later. Diagnostic Trace Id: 0HMAJGGJ928U9:0000000A" error.
See Also
You may also like the below PowerApps articles:
Buy the premium version of SharePoint Online & Office 365 administration eBook from here: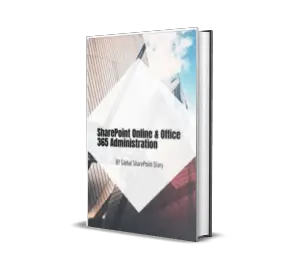 Reference URL
About Post Author